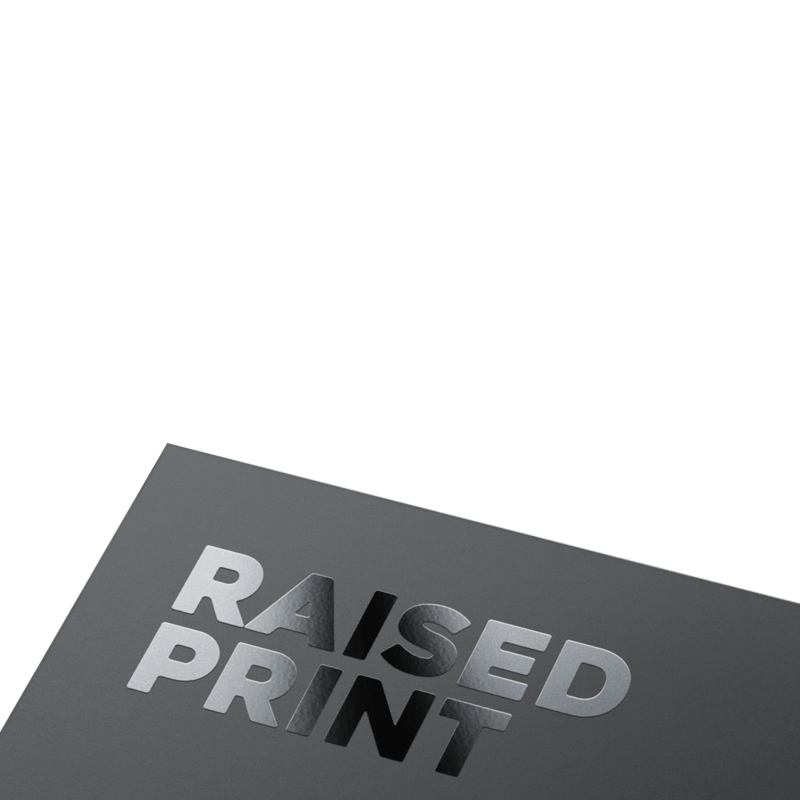 SPECIAL EFFECTS
Sometimes a design needs a little extra flair or finishing touch. Here at Aeroprint we have a wide selection of tools to do just that! On this page you will find a selection of some of the possibilities and how you can implement them in your design.
Glossy & Matte
Do you want to add shine or gloss to certain elemements of your design? Do you want your design to have a matte finish? We have several tools to accomplish the desired result. Here are a couple of guidelines on how to implement the effects in your document:
Transparent - You can accomplish a glossy or shiny effect on certain elements in your design by duplicating the desired elements to a separate layer and applying a spotcolor to them. Name the spotcolor "Transparent" and make sure it is set to overprint!
Matte laminate - We can give your design a matte finish. It's not necessary to make any adjustments to your document, but do make sure you notify us when placing the order. It's also possible to combine matte and glossy elements. Feel free to contact us for more information.
Spot-UV - For a stronger effect we can apply a Spot-UV layer. Again, duplicate the desired elements to a separate layer and apply a spotcolor, but this time call it "SpotUV".
Foil - If you want things to get really shiny, we can apply a (metallic) foil. Gold, silver, copper. The options are infinite. Apply the spotcolor "Foil" to the desired objects and make sure to set them to overprint.
Embossing & Texture
Printed matter is not just for the eyes. Sometimes you want that tactile experience that you don't get from digital media. Here's how you can realize that:
Paperchoice - Selecting the right paper is crucial for the perfect look and feel of your design. Textured papers, transparent paper, silver, gold, linnen… you name it! We are more than happy to go over all the options with you.
Raised print - We can apply a shiny relief to your design. This can be any text, linework or pattern. You can use the same method as with "Transparent", just make sure to name the spotcolor "Raised".
Preeg - Do you prefer 'oldskool' embossing or even letterpress? No problem. Same method as discussed above, just name the spotcolor "Preeg" and we'll take care of the rest.
Volume & Dimension
Printed matter doesn't have to be flat! Here are some suggestions to add some volume to your design!
Multiple layers - To transform your design from a simple piece of paper to a luxury business card or invite, we can glue multiple (differently colored) sheets of material together to create a real Wow! effect.
Books - XXXL books, miniature books, hard cover, lay flat. There are infinite ways to produce a book. Contact us for all the options or take a look at our Oooh Gallery for inspiration.
Packaging - Boxes, gift wrapping, potcovers? We have all the necessary tools in-house to produce your packaging.
Pop-ups - Making a good pop-up is a whole different ballgame. It's very precise work. We are more than happy to assist you!
Scanimation - Want to add some animation to your design? With scanimation you can animate a maximum of 6 frames using just one image and a mask. We have all the necessary tools and expertise to realise your design.
Color or image on cut - In addition to the more traditional gilded edge, we have various ways of applying color OR images to the edge of your book block. Please contact us for advise and detailed instructions.
Personalisation & Variation
There are many ways we can add variation and personalisation to your design. From a simple address database to randomly generated patterns.
Database - Want to print a list addresses on envelopes, or perhaps a unique series of codes on giftcards? You can send us your spreadsheet and we will integrate it into your design. Please do make sure that the spreadsheet has the proper fields and fieldnames. This is not limited to text. If you have a batch of images that you want placed along with the corresponding record, make sure you consistently name the image files and type the exact filename in a separate column.
Randomized designs - With our in-house software we are able to randomize your design, so that every single print is unique and one of a kind. By rotating, scaling and shifting color hues we can create a infinite number of variations.
Want to get straight to business and download some of our profiles, settings or specs? No worries, we've got you covered…